Start Where You Are
Hilton Barbados, Needham's Point St Michael Bridgetown, BB15158, Barbados
Meeting space: 16,200 sq ft     |     Rooms: 350
Hilton Barbados adopted Winnow food waste tracking technology for a period of six months to measure their food waste and determine the return on investment of food waste prevention and management efforts. By relying on support from their Blue Energy Committee, kitchen management and sous chefs began looking at how food waste relates to covers and occupancy, and where food waste reduction could save money.
Challenges
Implementing a food waste tracking system has operational challenges: getting the staff on-board to participate, especially those that are less confident or tech-savvy; developing the right style of leadership by sous chefs and kitchen management; managing time to track waste during a busy rush; and finding logistically feasible options for saved food, such as off-loading. Management noted that getting staff engaged through discussions, daily meetings about effectiveness, and one-on-one sessions can make or break this experience. "Monitoring for prevention is still a human task," one team member shared, so when the full team is involved there are more eyes on the process and more hearts invested.
The property's general manager reflected on a need for improved signage and trash bins to support consistent adoption of new behaviors. Proper signage should be posted in production areas and service stations, and green bins should be used to clearly separate food waste from other types of waste. This would enable staff to accurately sort food waste and work strategically to reduce it.
Successes
Hilton Barbados learned first-hand how effective food waste measurement can drive an organization toward environmental goals as well as their intended social impact. The staff developed greater awareness around their food production and approach to minimizing waste, especially on their breakfast and buffet displays.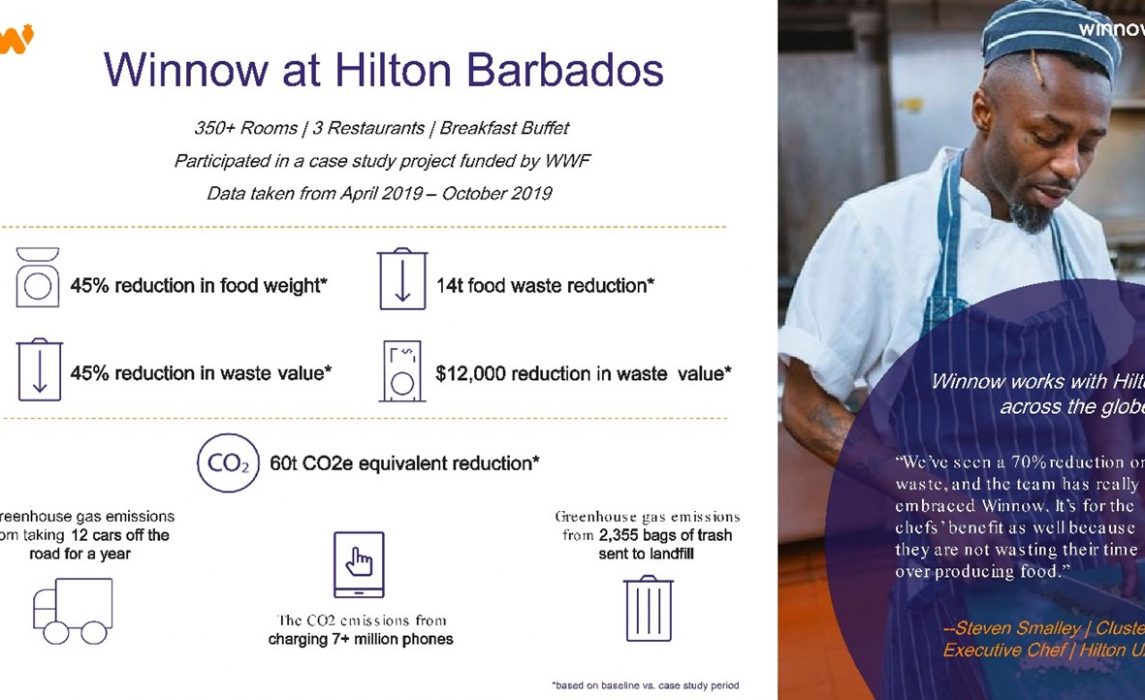 Next Steps
Hilton Barbados' leadership serves as a model for other resorts operating in an island environment. Islands are often constrained by limited land resources, infrastructure, and opportunities for local agriculture and food production. Many islands can experience these circumstances, so examples of success in these environments can have outsized impact to scale.
In the near future, the Hilton Barbados team will continue to collect and review data to see if and how their efforts are affecting their bottom line.  They'll also work to continue existing small programs sharing food scraps with local farmers and donating leftover wholesome meals as available to a local food bank.